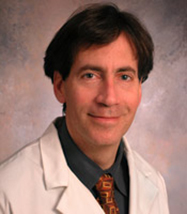 Scott Stern, MD
2014 Senior Faculty Scholars
Dr. Scott Stern is Professor of Medicine and Assistant Dean for Technology at the University of Chicago.
Dr. Stern is Co-Director of the Clinical Pathophysiology and Therapeutics, one of the most highly regarded courses in the Pritzker curriculum. Dr. Stern served as Co-Director of the Junior Clerkship in Internal Medicine from 1995-2013. Drawing upon his experiences as clerkship director, Dr. Stern served as the lead author of the textbook, Symptom to Diagnosis: An Evidence Based Guide, now in its 3rd edition.
Dr. Stern's teaching has been recognized with numerous honors, including twelve-time receipt of a "Favorite Faculty Award", three time recipient of The Robert and Susan Doroghazi Clinical Teaching Award for outstanding clinical teaching and two-time recipient of the Larry Wood Award for "selfless, tireless, and excellent teaching of medical students." Dr. Stern was named as one of the six inaugural members of the University of Chicago Academy of Distinguished Medical Educators.