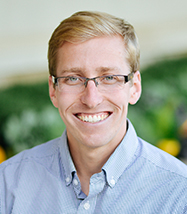 Sean Gaffney, MD
2010 Alumni Scholars, Medical Student Scholars
Sean Gaffney graduated magna cum laude from the University of Notre Dame in 2009 with a BA in Philosophy and Economics. Following graduation, Sean taught for two years at a high school in the Rio Grande Valley while completing a M.Ed. through Notre Dame's ACE program.
As a medical student, Sean is the co-coordinator of CommunityHealth Clinic, a free clinic on Chicago's west side. He also serves as a member of the Pre-Clinical Curriculum Review Committee, charged with reviewing the first two years of medical school curriculum.
Under the mentorship of Drs. Vineet Arora and Jeanne Farnan, Sean completed a research project titled "Transitions of Care and Transitioning to Training: Teaching and Assessing a Core Entrustable Professional Activity for Entering Residency," which earned Honorable Mention for Excellence in the Pritzker Summer Research Program.
Dr. Gaffney is a Medicine Resident at the University of North Carolina in Chapel Hill, NC.