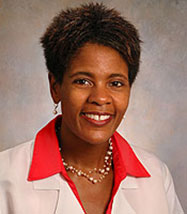 Shellie Williams, MD
2017 Junior Faculty Scholars
Dr. Shellie Williams is an Assistant Professor of Medicine in the Section of Geriatrics and Palliative Medicine. She practices and teaches housestaff both Geriatric and Palliative Medicine in the hospital, clinic, longitudinal care and home settings. She has a commitment to optimizing the care management of complex elderly patients and improving health literacy and decision making of those with acute and chronic serious illness.
Dr. Williams is a respected educator in her roles as Director of Geriatric Medicine and Palliative Medicine Education at Pritzker School of Medicine, Coleman Palliative Education Faculty, SHARE network community educator and University of Hawai'i Micronesian community educator. Dr. Williams Co-Developed a geriatric skills curriculum, which has trained over 700 Pritzker students and over 170,000 educators & students nationwide. She has also developed a palliative care communication curriculum, which is offered as a patient simulation experiential for medical students entering internship.
Dr. Williams' current clinical research focuses on cultural influences on dementia awareness, knowledge, and care decision-making. She is a member of the University of Chicago Academy of Distinguished Medical Educators.