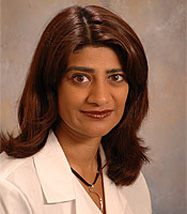 Sonali Smith, MD, MBA
2013 Senior Faculty Scholars
Dr. Sonali Smith is an expert in the care and treatment of adults with all types of Hodgkin and non-Hodgkin lymphoma. She has a special interest in new agents for lymphoma, as well as stem cell transplantation and its role in improving the survival of patients with relapsed lymphomas.
An active researcher, Dr. Smith is involved in the development of promising agents for patients with non-Hodgkin and Hodgkin lymphoma. She is principal investigator on a number of innovative clinical trials. Many of the trials incorporate the collection of tumor and blood samples to study the effects of treatment on cancer cells through collaborative laboratories.
Dr. Smith frequently lectures to both physicians and patient groups on these topics. She serves on several national committees charged with improving treatment options for patients with lymphoma, providing physician education, and providing reliable information for patients through established websites. Dr. Smith also frequently performs peer reviews of research being considered for publication in major medical journals. Additionally, she has won several teaching awards at the University of Chicago.