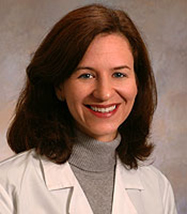 Stacy Kahn, MD
2014 Alumni Scholars, Associate Junior Faculty Scholars
Dr. Kahn is Assistant Professor of Pediatrics in the Section of Pediatric Gastroenterology, Hepatology, & Nutrition and is faculty at The MacLean Center for Clinical Medical Ethics. She received her medical degree from New York University School of Medicine and completed her residency and fellowships in pediatric gastroenterology and medical ethics at the University of Chicago.
Dr. Kahn specializes in the evaluation and treatment of digestive diseases in children and adolescents. She has a particular interest in inflammatory bowel diseases (IBD), including Crohn's disease and ulcerative colitis. Dr. Kahn is the founder and Director of the Transitional IBD Clinic, a unique program that provides multidisciplinary specialty care for teens and young adults with IBD. Dr. Kahn's research focuses on novel treatments for IBD and improving patient care for patients with IBD. Specifically, she is interested on adherence, self-management, and the transition of care from pediatric to adult IBD specialists.
Dr. Kahn is a member of the faulty at Boston Children's Hospital in Massachusetts.