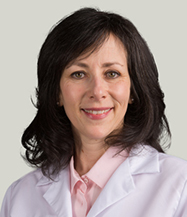 Stacy Lindau, MD, MAPP
2018 Senior Faculty Scholars
An expert in the fields of population health and sexuality, Stacy Lindau is a practicing gynecologist and physician scientist who focuses on the health and life course of women and people living in poverty. She uses a community-engaged approach, working together with the patients and populations she serves to solve big health problems.
Lindau is the director of the Program in Integrative Sexual Medicine and WomanLab, an effort that aims to educate the public on preserving and restoring sexual function in women affected by cancer and other common health conditions. She also directs the South Side Health and Vitality Studies, including Feed1st, a hospital-based hunger mitigation effort and is President of MAPSCorps, a non-profit organization spun out of her lab that conducts an annual, comprehensive community asset census together with youth from high poverty communities across the U.S.
Lindau is an NIH-funded investigator since 2005 and has published extensively in the highest impact medical journals. She was awarded a 2016–18 Aspen Health Innovators Fellowship and is a member of the Aspen Global Leadership Network.