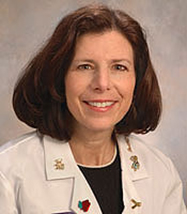 Susan Cohn, MD
2014 Senior Faculty Scholars
Dr. Cohn is a Professor in the Department of Pediatrics, Director of Clinical Sciences, Dean for Clinical Research, and Acting Section Chief of Pediatric Hematology/Oncology. She has devoted her career to caring for children with neuroblastoma and conducting clinical and translational research focused on understanding the biologic underpinnings of high-risk neuroblastoma to identify new therapeutic targets. The long-term goal of her research is to develop more effective treatment based on the biology of the tumor and host genetics.
A long-term area of research in her laboratory has focused on investigating the role that angiogenesis plays in neuroblastoma pathogenesis and developing treatment that inhibits this process. More recently, Dr. Cohn has collaborated with Drs. Nancy Cox and Eileen Dolan to investigate the genetic variables contributing to racial disparities in survival for children with neuroblastoma. Dr. Cohn also worked with Dr. Andrew Pearson from the United Kingdom to spearhead a collaboration with investigators from around the world to establish an International Neuroblastoma Risk Group Classification System. This system was based on analyses of data collected from more than 8,800 patients. These data are available for investigator-initiated research studies, and in a recent collaboration with Dr. Sam Volchenboum, Chiam Kirby, and other members of the Center for Research Informatics at the University of Chicago, the infrastructure housing the data has been transformed into a live queryable database [the Interactive INRG database (iINRGdb)] using technology that enables connections to other data sources. To date, connections with the Children's Oncology Group (COG) Biobank and Nucleic Acids Bank have been established, and researchers can now ask complex questions of the data and have instant access regarding sample availability.
Dr. Cohn is an internationally recognized expert in clinical trials and the treatment of neuroblastoma. She holds leadership positions in a number of national and international oncology groups such as Children's Oncology Group (COG), New Approaches to Neuroblastoma Therapy (NANT), the International Neuroblastoma Risk Group (INRG) Task Force, and American Society of Clinical Oncology (ASCO).