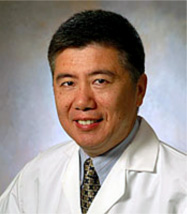 Tao Xie, MD, PhD
2016 Senior Faculty Scholars
Tao Xie, MD, PhD, specializes in the diagnosis and treatment of various movement disorders, including Parkinson's disease, progressive supranuclear palsy (PSP), multiple system atrophy (MSA), cortical basal ganglionic degeneration (CBGD), Huntington's disease (HD) and chorea, tremor, dystonia, hemifacial spasm, blepharospasm, tics, and Tourette syndrome. He uses medications, botulinum toxin injection and deep brain stimulation surgery for treatment of these neurological conditions.
In his clinical research, Dr. Xie studies the effectiveness of deep brain stimulation for the treatment of various movement disorders. He is actively involved in clinical trials for Parkinson's disease, PSP and HD. His laboratory research is focused on identifying and characterizing genes related to Parkinson's disease and dopaminergic neuron degeneration.
Dr. Xie is a physician in the University of Chicago Center for Parkinson's Disease and Movement Disorders. Dedicated as a Center for Advanced Research by the American Parkinson Disease Association, this multidisciplinary center combines clinical expertise with state-of-the-art therapies and groundbreaking research.
2012 Pilot Grant Project: Annual Education Event for Support Group of Patients with Parkinson's Disease