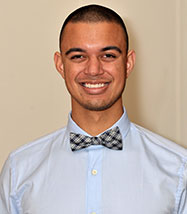 Tyrone Johnson, MD
2017 Alumni Scholars, Medical Student Scholars
Tyrone Johnson graduated magna cum laude from the University of California, Los Angeles in 2015 with a BS in Microbiology, Immunology, and Molecular Genetics. He is a former coordinator of the UCLA Mobile Clinic Project, an interdisciplinary street-side free clinic that provides medical and social services to the homeless of West Los Angeles.
As a 2017 Schweitzer Fellow, Ty developed a holistic wellness curriculum for underserved and housing-insecure adults in Chicago's Uptown. At Pritzker, Ty has served as co-director of the Maria Shelter Clinic, as a board member of the Student National Medical Association (SNMA), and as a member of the Identity & Inclusion Committee.
Under the mentorship of Dr. Lolita Alkureishi, Ty has conducted research on methods of improving patient-centered communication in the Electronic Medical Record era. He is also working with Dr. Elizabeth Tung to investigate the impact of community violence on chronic disease in Chicago's West and South Side neighborhoods.
Dr. Johnson is a Medicine Resident at the University of California, San Francisco.