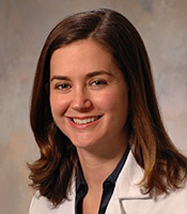 Valerie Press, MD, MPH
2022 Senior Faculty Scholars
Dr. Press is an Associate Professor of Medicine and Pediatrics, Executive Medical Director Specialty Value Based Care, and Medical Director of the Care Transitions Clinic at the University of Chicago. Dr. Press received her medical degree and master of public health in health management and policy degree at the University of Michigan in Ann Arbor. She completed her internal medicine and pediatrics residency training and health services research fellowship training at the University of Chicago.
Dr. Press' research is focused on developing, testing, and implementing patient and system level interventions to improve the quality and value of care for patients with chronic diseases across care transition settings. Her areas of focus include improving communication between patients and clinicians through interventions that are tailored to patients' health literacy and technology literacy, ensuring interventions meet the needs of diverse patient populations, and optimizing systems to provide resources and interventions to the right patients at the right time. She currently serves as principal investigator for two Research Project grants (R01s) from the National Institutes of Health's National Heart, Lung, and Blood Institute and the Agency for Healthcare Research and Quality, which are both focused on improving care for patients with COPD by utilizing patient and system centered and tailored interventions to reduce revisits to the emergency department and/or hospital after hospitalization for COPD exacerbations.
In addition to these federal grant awards, Dr. Press has an active research portfolio with the Bucksbaum Institute having received several pilot awards focusing on improving the patient and clinician communication and care for patients with low health literacy and e-health literacy, chronic diseases including chronic lung disease and sickle cell, particularly around optimizing technology-based approaches to education and self-management.