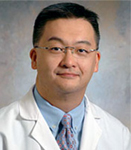 Woojin James Chon, MD
2011 Alumni Scholars, Associate Junior Faculty Scholars
An adult nephrologist, Dr. W. James Chon is a member of the University of Chicago Medicine's highly regarded renal transplant team. He specializes in the evaluation of donors and recipients for kidney and kidney-pancreas transplantation. Dr. Chon has extensive experience in post-transplant treatment, particularly in the management of immunosuppressive therapy for these patients.
Dr. Chon has been actively involved in numerous clinical research projects that deal with complex medical issues in renal transplant candidates and recipients. He is also interested in protecting deceased donor kidneys from tissue injury that can occur during the procurement surgery and transport process.
Dr. Chon is now a member of the University of Missouri-Kansas City School of Medicine Faculty.