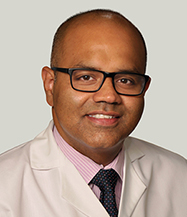 Kiran Turaga, MD, MPH
2023 ALUMNI SCHOLAR
2018–2019 SENIOR FACULTY SCHOLAR
Department of Surgery
Bio
Dr. Kiran K. Turaga is a renowned surgical oncologist with a specific expertise in metastatic cancers. He grew up in India and completed his medical training from the prestigious All India Institute of Medical Sciences (AIIMS). He completed his surgical residency from Creighton University and his fellowship from The Moffitt Cancer Center. He also holds a Master's in Public Health from Johns Hopkins School of Public Health.
Dr. Turaga is interested in the patient centered management of patients with complex malignancies. Prior to joining the University of Chicago, he was the Sharon Wadina Endowed Professor at the Medical College of Wisconsin. Some of his initiatives have included patient navigation, trimodality prehabilitation for patients undergoing complex cytoreductive surgery and early use of supportive oncology in the management of patients. Along with the regional therapies team, he has successfully created one of the premier programs for cytoreductive surgery and regional therapies in the nation which attracts patients from across the country.
Dr. Turaga's research has focused on patient outcomes with oligometastatic cancers and he has published over 110 journal articles. He has contributed scholarly works to foremost oncological textbooks about peritoneal surface malignancies and is currently the section editor for the Annals of Surgical Oncology for the regional therapies section. He is interested in disease prediction, modeling and delivery of optimal care for his patients.
He is also the fellowship director for the Complex General Surgical Oncology Fellowship program at the University of Chicago/Northshore program. He has been awarded the Department of Surgery Excellence in Teaching award in 2016-17.
As of 2023 Dr. Turaga joined the faculty at Yale School of Medicine