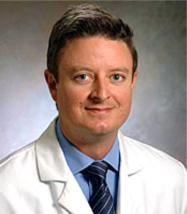 Raymon Grogan, MD, MS
2013–2014 JUNIOR FACULTY SCHOLAR – ALUMNI
Department of Surgery
Bio
Raymon Grogan, MD, is a specialist in the surgical management of thyroid, parathyroid, and adrenal gland diseases. He has expertise in the surgical management of endocrine cancers as well as benign endocrine gland disorders.
As a clinician and a scientist, Dr. Grogan is actively involved in clinical, translational, and basic science research. He is currently working on identifying genetic and proteomic biomarkers in thyroid and adrenal tumors. Understanding the genetic and molecular changes in these tumors could lead to better diagnosis and treatment strategies for patients with cancer. The ultimate goal is to improve patients' lives by translating state-of-the-art research findings into everyday clinical practice.
Dr. Raymon Grogan is the section chief of endocrine surgery at Baylor College of Medicine in Houston, TX.
2013 Pilot Grant Project: "A Formal Curriculum in Surgical Professionalism and Ethics": To enhance and encourage the professionalism of surgical residents and their understanding of the central concepts of surgical ethics
2012 Pilot Grant Project: Understanding of the Psychology of Thyroid Cancer Patients in an Era of Increasing Incidences