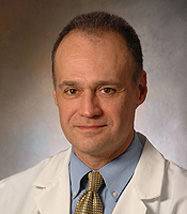 Michael Bishop, MD
2013 Master Clinician
Department of Medicine
Bio
Michael R. Bishop, MD, specializes in the diagnosis and treatment of lymphomas and leukemias. In particular, he cares for patients with hematologic malignancies that have not responded to first-line treatments. An expert in hematopoietic stem cell transplantation (bone marrow transplantation), Dr. Bishop and his team are working to address the unique social, economic, physiological and biological issues that patients face while undergoing this treatment.
Dr. Bishop's research focuses on the prevention and treatment of relapse after stem cell transplantation. Relapse is the primary cause of treatment failure and death after stem cell transplantation. He has served as the primary investigator on studies designed to prevent and treat disease recurrence after transplantation. Specifically, he works on ways to enhance immune effects of the transplanted cells against cancer.
An active contributor to medical literature, Dr. Bishop has authored more than 150 peer-reviewed articles, in addition to more than 30 book chapters and two books on cancer treatment and research. He also serves on the editorial board of numerous scientific journals, including Biology of Blood and Marrow Transplantation.
Dr. Bishop is a dedicated mentor, teaching residents and fellows in classroom, clinical and research settings. Many of his past trainees hold leadership roles in medical oncology and immunology at academic medical centers or at the National Cancer Institute in Bethesda, Maryland.
Since 2001, Dr. Bishop has consistently been named one of the "Best Doctors in America" by Best Doctors, Inc. He previously served as a senior investigator and as the clinical head of stem cell transplantation for the National Cancer Institute at the National Institutes of Health.
2013 Pilot Grant Project: A Pilot Program of Cost Communication in Hematologic Malignancies